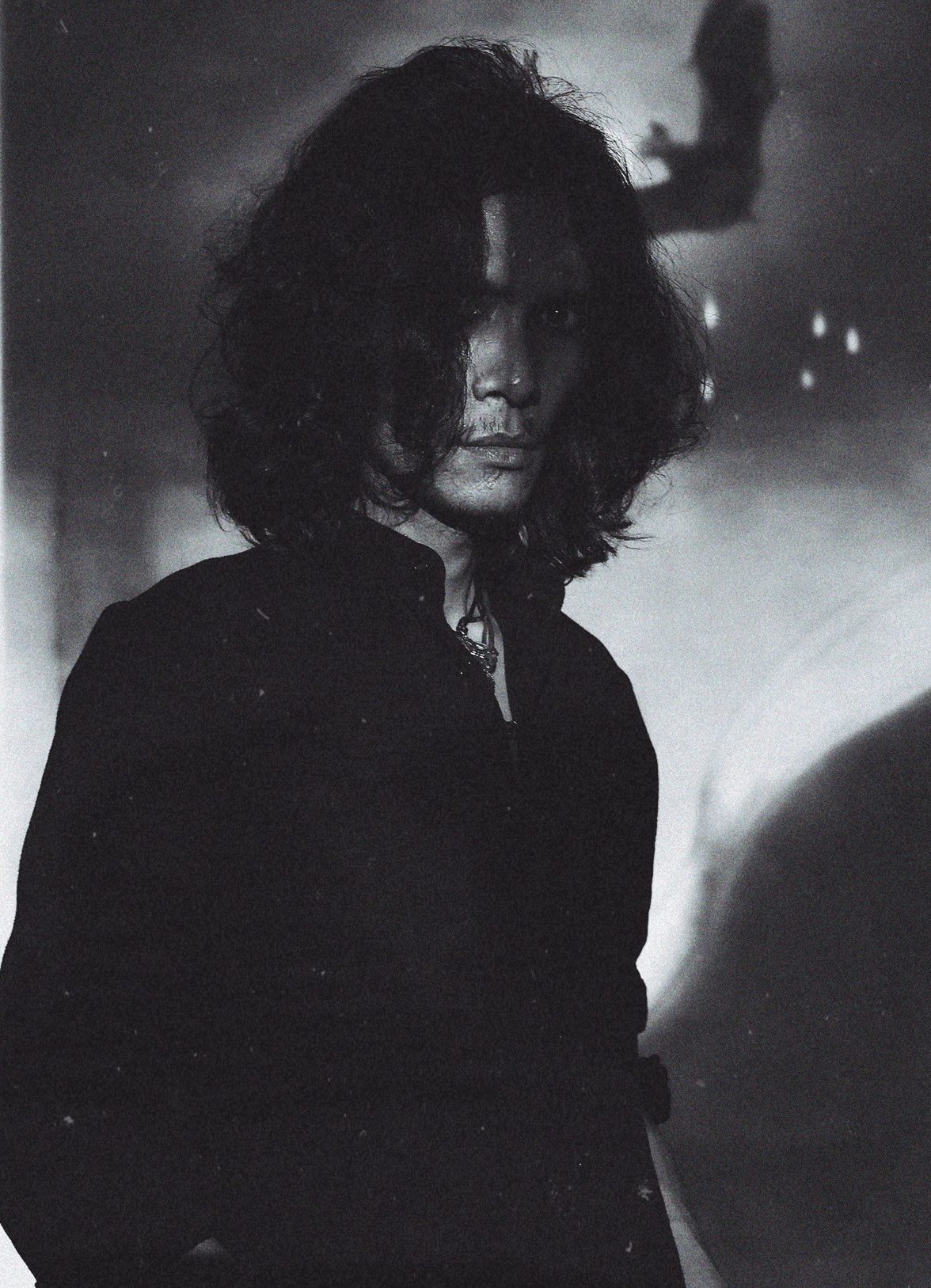 MORRG, a Grindrocker who's self taught artist from Pekanbaru. Spending almost 18 years in Bandung,  he's attended the study at Journalistic Unikom, Bandung 2002 – 2009 was didn't stop his interest in art, illustration and music to be seriously pursued. In the beginning of his early career, Morrg started to making tshirt graphics for friend's band and as a layouter/graphic at Ripple Magazine, one of local youth culture magazine, based in Bandung around 2006 – 2008. A demon lover, dark images, solitude and scenery,  narrative visual drama, and bit of cartoonish are the characters of each of his paintings. In partly works, he likes to combined present issue meet the world's history, mithology, and ancient things becoming a new frame of kitsch of today in the future as an identification his works which mostly use ink and watercolor on paper. 
He's more deeper into art printing/ postergrafia, and with Rekti Yoewono (The SIGIT) making a collective studio called Månstråle (Pronounced "mon-stro-la")  who makes and share his works on silkscreen printing poster for band illustration and gigs poster in 2011 until it falls. But anothers one is spring up. Morrg with his friendmate, Alexander Benedict (Muntah, Distorsi Mulut Setan) aka Mayatschism, make some sinergy spirit on Quest For Money, a duo agent illustrator based on live drawing for people on event or party.
As a musician, Morrg founding and writing music on his band Rajasinga who play Grindcore, formed in Bandung 2004. Morrg play Bass during Killed By Rajasinga EP & Pandora era. Then fill the position Vocal + Bass in NeverGrind EP, Rajagnaruk, III, Meribut (Compilation). The Band still active to making show and tour, writing music with Revan Bramadika on drum, Bimantoro Amirisyano on guitar. Their manage a self production called Negrijuana. In addition, Morrg's next step experiment has making storyboard, animated and directed by himself for Rajasinga, Stoned Magrib MV (Negrijuana, 2016), and Suara MV (Blackandje Records, 2019).
Now, Morrg was living in  Pamulang – South Tangerang. He's still active to produce more painting and works, comission for cover art painting, illustration for bands merchandise, local brands and organizer. 
Client
Anoa Records, Blackandje Records, Bung Magazine, Cobra Magazine, Demajors, Disaster Records, Grimloc Records, KeepKeep, Maternal Disaster, Merchons, Orange Cliff Records, Prometal, Rimauman Music, Ripple Magazine, Rolling Stone Magazine INA, Southcave Records, Teepee Records (USA), Thrive Motorcycle, Trigger Finger Hemp, Warkop Musik, Worlds End
Appears on
RAJASINGA
Killed By Rajasinga EP (demo) 2004
Grind Sampler (demo), 2006
Pandora (Full Length),  StrainEyes Rec (Malaysia) 2007
NeverGrind EP (demo), Negrijuana Prod, 2009
Rajagnaruk (Full Length), 2011, Negrijuana Prod, 2011
III (Full Length), Negrijuana Prod, 2016
Meribut (Compilation), 2019
NANSURAM
Demo [Soon]
RAJAKOBRA
"New Fear The Me Is 3" 2021 Single

SUARAKASTIL
"Reinfied" 2022 Single • link 
VLAAR
"Pemvja Setan Live" 2022 • link
Art Show/Exhibition
2008    KONGSI JAHAT, Galeri Nasional, Jogjakarta
2008    DEER ANDRY, S.14, Bandung
2010    KONSPIRASI TANGAN SETAN, Music Illustration, Galeri Padi, Bandung
2010    OMUNIUUM ARTSHOW, Omuniuum, Bandung
2011    THTC 'Interstellar', UNKLshop, Bandung
2012    BANDUNG NEW EMERGENCE IV,  Selasar Sunaryo, Bandung
2012    BAZAAR ART JAKARTA, Pacific Place, Jakarta
2013    ILLUMINATOR, Doomination, Gedung Indonesia Menggugat, Bandung
2014    MANIFESTO no.IV, Galeri Nasional, Jakarta
2014    VILLAINS 'Mythos', Galeri Sarasvati, Bandung
2014    Maternal Disaster, ONLY DEATH IS REAL, IFI, Bandung 
2015    VILLAINS 'Goddess', Worlds End Gallery, Bandung
2015    'Uncorrupted Art Event', Rumah Panas Dalam, Bandung
2016    'STONED MAGRIB', Screening & Exhibition, Omni Space, Bandung
2016    VILLAINS, 'Gucha Gucha', Worlds End Gallery, Bandung 
2018    BLOODS, 'Visual Strikes', IFI, Bandung